BACK
HOME
NEXT
FLORIDA: Saturday, July 14 - Friday, July 20
Evan Law, Gainesville: July 14 - 16
After driving most of the day my mom and I arrived in Gainesville on a Saturday evening. We met up with my brother, Evan, and he took us out to a Moe's Southwest Grill. All three of us ordered from the children's menu ;)
I thought it was pretty hilarious to see this limo in front of the Burger King in Gainesville.
Sunday morning we went to Evan's church. It was a fun group and the church was very fruitful. We had lunch at Evan's favorite restaurant: Gator Dining. In the afternoon we went to see the movie "Evan Almighty", which we all enjoyed.
Sunday evening Mom and I watched Evan play basketball with his Intramural team and then we all went swimming and ate dinner by the pool. I had a lot of fun visiting Evan. It's nice to finally see where he's been living the last three years and to see the church he loves so much.
Aunt Dawn, Sarasota: July 16 - 18
On mid-day Monday my mom and I said goodbye to Evan and drove down to Sarasota to visit her Aunt Dawn. We met at the Barnum and Bailey - Ringling Museum. It was a beautiful location right on the water, and it was a huge collection of Art. Dawn shared a lot of her artistic insight with us, so we had a fun time.
After the art museum, Aunt Dawn took us to a seafood restaurant highly recommended by her son (a restaurant owner himself). We really enjoyed it also and would love to go back.
On Tuesday we all headed for the beach which is rated to have the world's BEST sand. It was pretty, white sand that was silky when wet. The beach wasn't very shelly so it was nice to walk on. Aunt Dawn said that the town had to make a rule that you are not allowed to take buckets of sand away from the beach because it is so popular. That afternoon we went shopping and bought matching muumuus among other things.
Wednesday morning Mom and I explored the complex where Dawn lives. We went swimming at two of the six pools and explored the marina.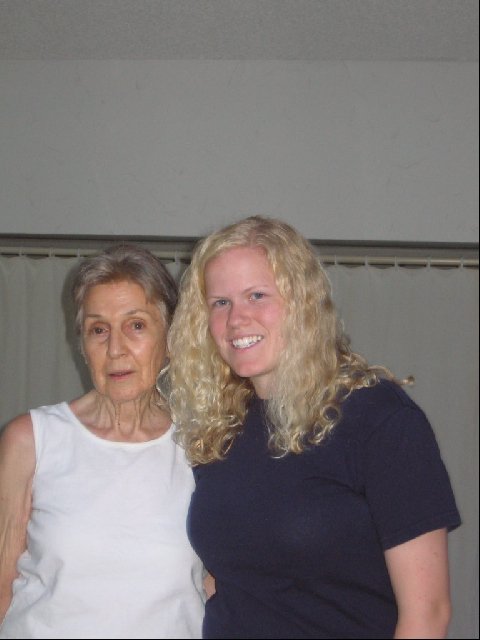 Orlando: July 18 - 20
That afternoon we drove to Orlando and met Evan to celebrate Mom's birthday with a nice dinner.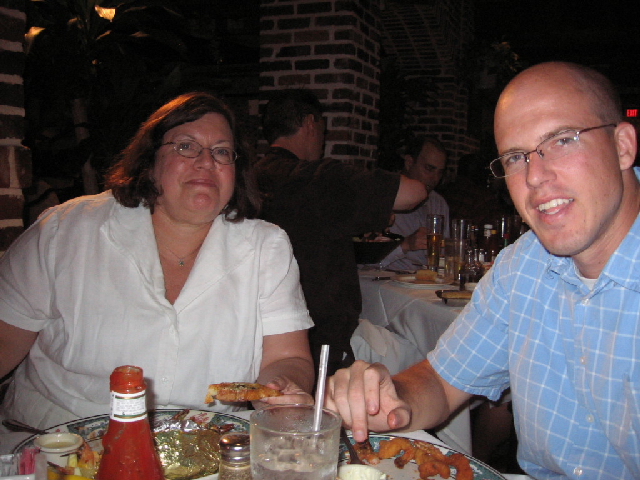 Even God was celebrating Mom's birthday by giving us a beautiful sunset that night.
Thursday Evan and I went to the Universal Studios theme park and rode the rides there. Mom picked us up and we all went to dinner. We were planning on playing putt putt that night, but it was raining so we went shopping at a very large outlet mall instead.
Friday morning we separated again. Mom and Evan went to do some more traveling around Florida and I headed to Alabama to continue on my adventure...
BACK
HOME
NEXT