BACK
HOME
NEXT
VIRGINIA: Monday, August 6 - Sunday, August 12
Jeanne, Alexandria: August 6 - 9
Todd and I met up with our good friend, Jeanne, Monday afternoon. We all participated in a Math Summer program the summer before and made great connections there. Actually two other people from the program happend to be in DC too, so Monday evening we went right into the city to have dinner with them. We met up with Philip, but it turned out Kenney wasn't available. The four of us had a nice dinner and enjoyed getting to catch up.
Tuesday Jeanne took Todd and me on a tour of where she had been interning that summer. We all got really hot, so to cool off we went back to Jeanne's apartment and hit the pool. This was very refreshing.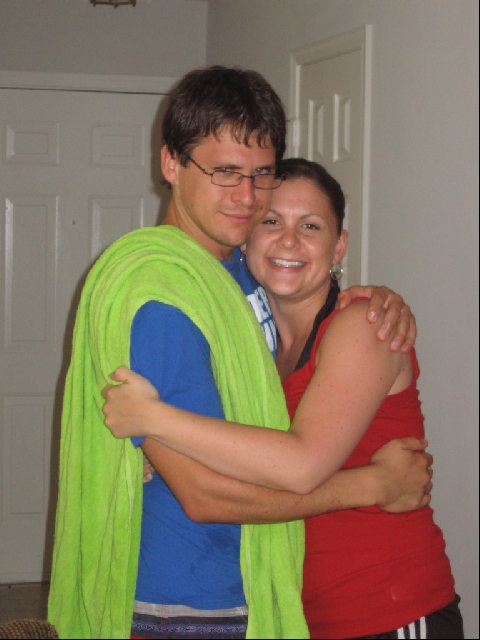 That night we all got dressed up and went out on the town. We went back into DC for dinner and found a very nice Japanese restaurant.
After dinner we just walked around and enjoyed the capital at night.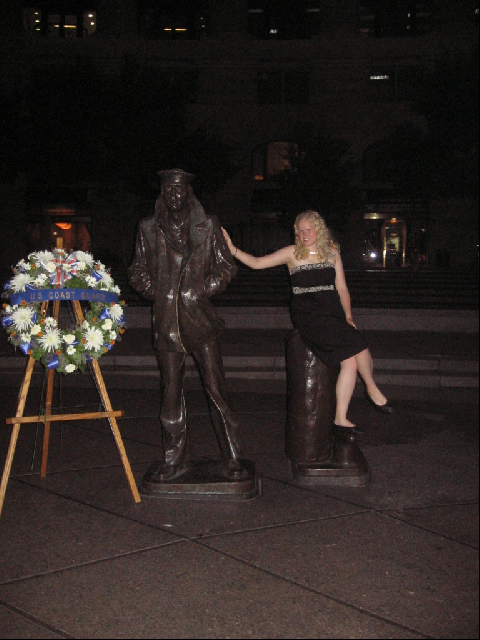 Wednesday morning Jeanne had to go to work so Todd and I hit up the monuments. I think we picked one of the hottest days DC had had in years! We had to stop and buy water and as we were walking around we tried to run from shady patch to shady patch. Here is a picture of me at the Lincoln Memorial. Going up the steps to get there was a real feat in this heat, and it was really hard to build up the courage to leave the shade of the monument, but we managed.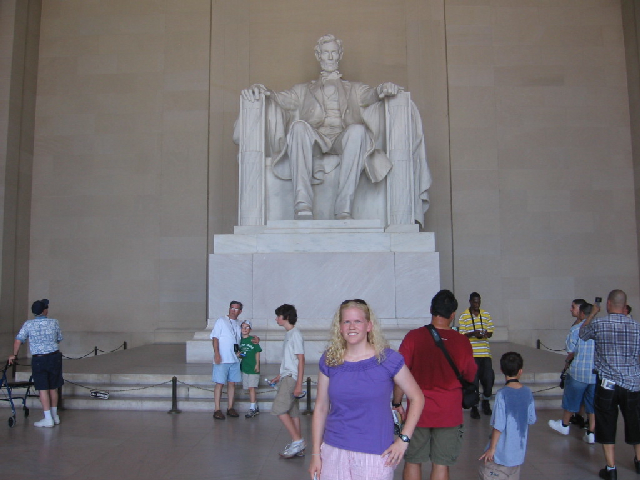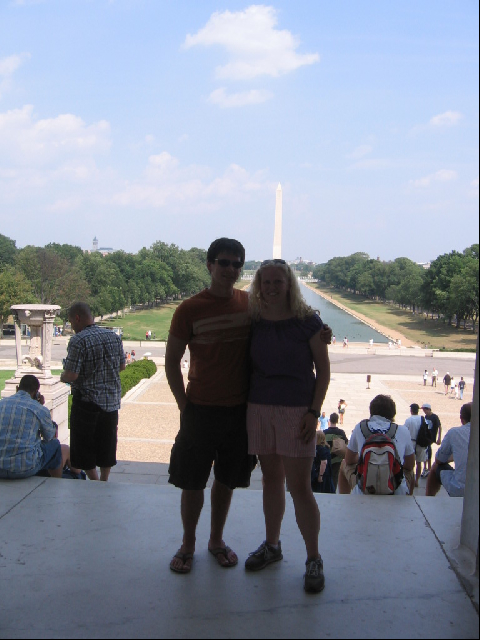 We made it off of the lawn and over to the white house. As we were walking I was suprised at how many people were dressed in suits. I can't even imagine how hot and sweaty they were!
That night we met up with Jeanne again. Todd had to catch a train to go back home so Jeanne and I went with him to the station. After we said goodbye to Todd we had dinner at an UNO restaurant and then went back to Jeanne's.
Thursday morning I had to say goodbye to Jeanne before she went to work for the day. Then I was on the road once again.
Charlottesville: August 9 - 10
I didn't have plans to stay with anyone else until Firday so I was on my own for the evening. I just started driving south through Virginia and stopped wherever I felt like it. My first stop was at James Madison's house. It happened to be undergoing renovations, but I still learned a lot about the Madisons. It surprised me how devoted the workers at the museum were to their jobs. They spoke about President Madison as if they had known him. I felt a little out of place when I realized my tour group consisted of three elderly couples. I had to help one elderly woman a couple of times. She pointed to a small forest and told me that she could remember when there weren't any trees there.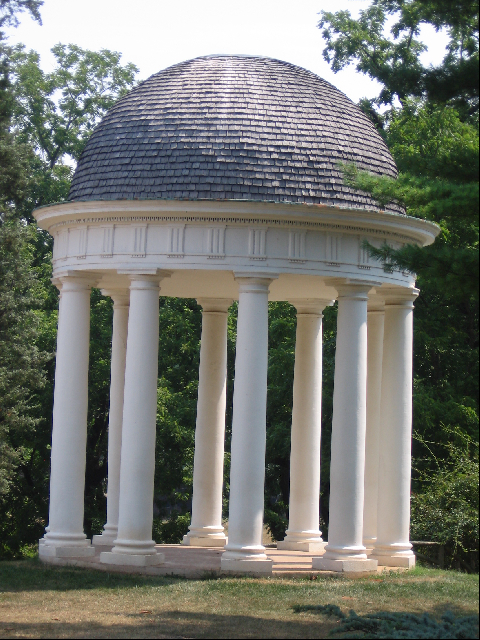 Shortly after I stopped at James Madison's house, I saw signs for Thomas Jefferson's house. I didn't stop because I thought one president's house was enough for one day. By now I was very near Charlottesville so I decided that would be a good place to settle for the evening. I parked in the downtown area and went straight to the visitor center. They were very helpful. I found all sorts of information about things going on that night and things to do in the area. They even helped me book a hotel.
After looking at the shops downtown and grabbing some dinner, I went to my hotel and checked in. I wasn't there long because I had heard about a swing dance that I wanted to give a try. I changed and went out to the dance.
The people at the dance were very friendly. A few of them took some time out to teach me some new moves! Everyone seemed very nice, but I was still cautious not to mention that I was staying in town by myself.
Back at the hotel I wasn't tired yet so I sat in the lobby and read my Harry Potter book some more while drinking a Shirley Temple. I quickly realized that I was attracting some unwanted attention so I finished the drink and went to my room to read.
Friday morning I intended to use the hotel's pool, but some of that attention was still around so I just went back to the downtown area again that I had enjoyed so much the day before.
The visitor center told me about a trolley that makes a half hour loop around town. I decided that would be a fun way to see things. I didn't complete the loop because I wanted to get off and see some of the University of Virgina's campus. I first went to see the rotunda that I had heard a lot about. It has some connection to Jefferson that I can't recall any more.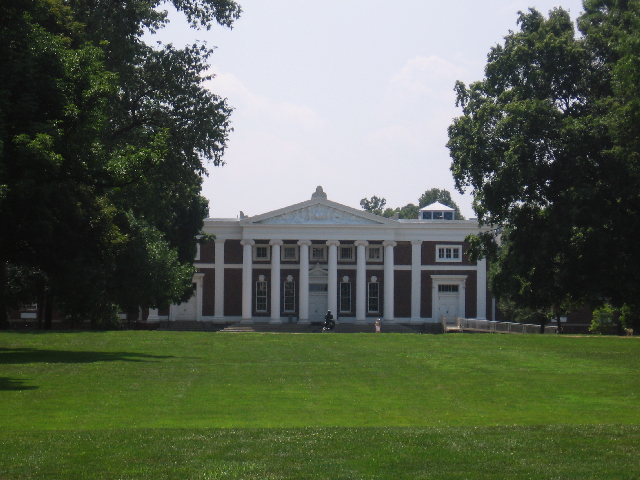 After my self-guided tour I stopped for lunch at a Mellow Mushroom. This had been a fun visit, but it was time to head on to the next part of my tirp.
Bryan Snare, Floyd: August 10 - 12
Firday night I got to catch up with Bryan and Michelle, some of my good friends from Appalachian, and Bryan's friend Perry who had come to visit North Carolina before. I also got to meet part of Bryan's family. We all enjoyed an amazing home-cooked meal that was one of the most delicious meals on the whole trip! That night we drove around and I got a grand tour of their farm.
Saturday morning we had another huge home-cooked meal for breakfast and headed to the parkway. We went to Mabry's Mill, one of the most visited stops on the Blue Ridge Parkway. The weather was great and there were even some workers there sharing the history of the mill.
Here are Bryan, Michelle, and Perry.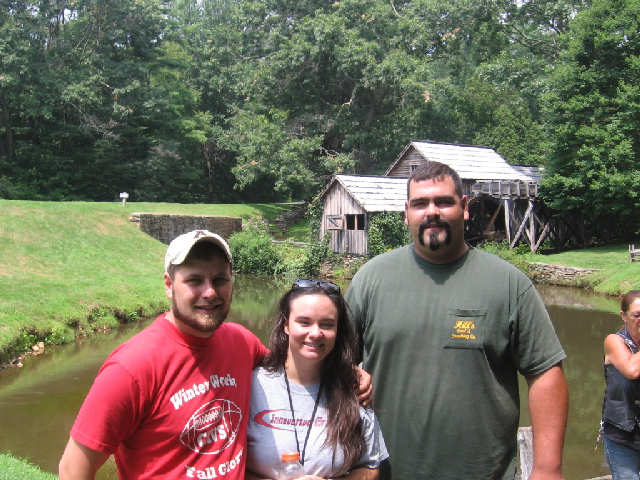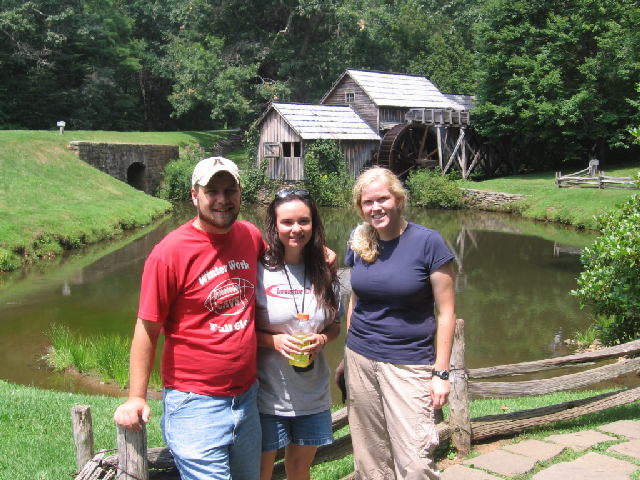 After the parkway we stoped in a little diner for a lunch of breafast foods. In that town there was a well-known candy shop that probably was so well-known because it was the stereotypical "mom and pop" candy shop, although it seemed pretty commercial now. I think there happened to be some sort of motor cycle convention in the same town because we saw bunches of cyclists everywhere we went.
Next we made our was to Perry's family farm. His dad is a cow farmer so Perry got us about 20 loaves of bread and took us out to see the cows! I had so many new experiences that day. At first I would throw the bread to the cows, but later I had them eating it out of my hand. I also learned how to open and close an electric fence and the difference between cows, steers, and bulls. I even petted a bull! I loved getting to ride around and to see the different pastures. I didn't think anything could top it until...
That afternoon they made one of my dreams come true. Bryan and Perry let me shoot their shotguns! We had a blast (literally), shooting at some targets out on Bryan's farm. I loved getting to use their guns. Bryan's step-mom even did it with us. We tried throwing targets for each other, but I didn't do as well at that.
That night we hung around outside looking at the stars and building a bonfire. The sky looked so clear out in the country, there must have been millions of stars I had never been able to see before. I even got to see some stardust. The bonfire was awesome too. Perry had some copper that he put on the fire which changes the flames to the most vivid shades of a deep blue, a rich violet, and an emerald green.
Sunday morning Bryan's dad got home from a fishing trip. I really enjoyed getting to know him. We had yet another delicious meal to welcome him home. After breakfast Michelle and I went down to the horse pastures to move the horses from one field to another. Michelle also groomed them some.
All too soon it was time for me to hit the road, but we took one last picture before I left.
I saw this on the road. I can't believe Bruce Wayne would let anything compromise his identity.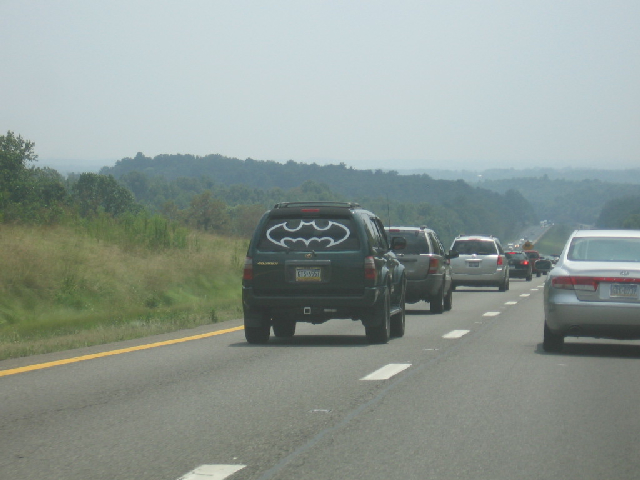 BACK
HOME
NEXT