BACK
HOME
NEXT
KENTUCKY: Thursday, July 26 - Saturday, July 28
Charles Fahringer, Louisville: July 26 - 28
I was running a little ahead of schedule on my way to meet up with Charles, so I decided to stop at Lincoln's Birthplace. I took a long country road to get there, and I actually passed some Amish people riding in a horse and buggy. Unfortunately, I got to the birthplace 15 minutes after it closed so I just got a drive-by view of the little log cabin where Lincoln was born.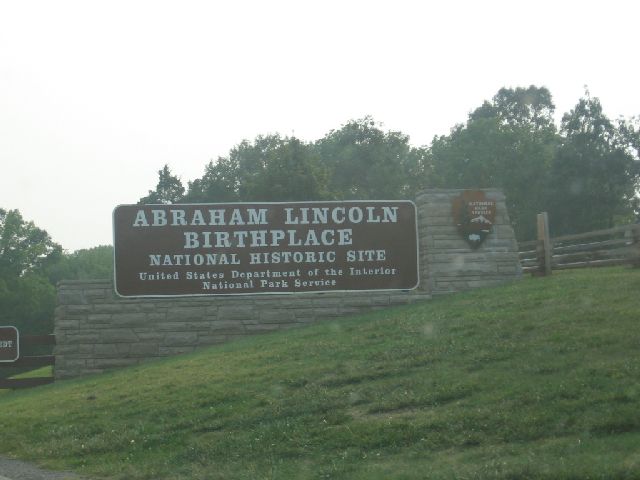 When I arrived in Louisville Charles was finishing an exam for his summer course. I enjoyed getting to talk to his mother while we waited for him to get home. The evening was fairly uneventful other than some lively conversation.
Friday morning, Charles had to go to work, so I went to the local library, caught up on some e-mail, and read Harry Potter for a while. Charles and I met up again for lunch. We went to a restaurant called Kaelin's, which claimed to have invented the cheeseburger.
After lunch we went to the Kentucky Derby Museum. I really enjoyed getting to go out on the track.
Here is a statue of one of the most famous jockeys. It is an actual size representation!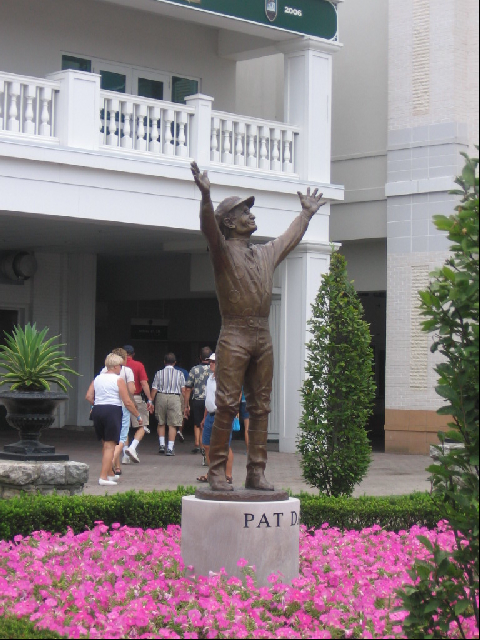 That afternoon Charles and I got together with his twin brother, Freddy. We all went to see The Simpsons Movie. That evening there was an art walk on Franklin Avenue. We got to walk around in shops to see the art, and there was a trolley running people from one art shop to another. Along the way we saw this decorated horse outside a little shop. (Charles is on the right.)
Saturday morning I left pretty early because I knew I would only have a short visit with Gretchen otherwise.
BACK
HOME
NEXT