BACK
HOME
NEXT
MISSISSIPPI: Saturday, July 21 - Thursday, July 26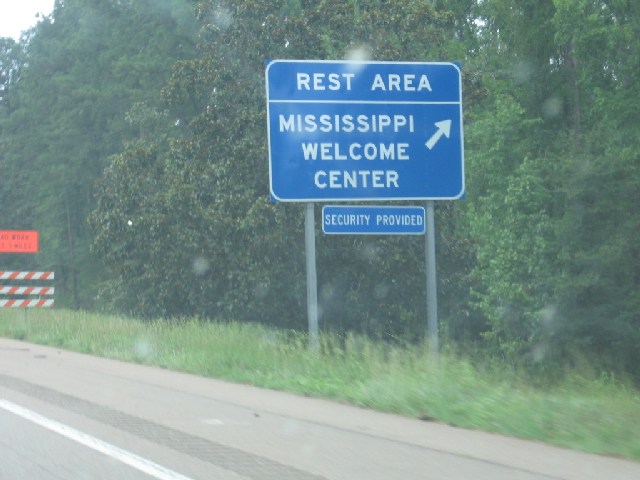 Debbie Holman, Neshoba County Fair, Philadelphia: July 21 - 23
I arrived at the fair just in time to join the family for Tommy and Ginger's retirement party. I am very grateful to have had the opportunity to get to know so many of my relatives better. They were all extremely welcoming and I had a wonderful time at the fair. However, it was obvious that I was new to the Neshoba County Fair. I may be from North Carolina, but I had to go to Mississippi to find out what the south is all about...
These are pictures of the rodeo we went to on Saturday night. Somehow I had never put it together that rodeos actually have clowns to entertain the crowd between events. I always thought that a rodeo clown was someone who fell off their horse or something ;)
The picture below was taken during the calf chase, where all the kids run after a couple of calves and try to catch a ribbon tied to their tails. I am the proud cousin of multiple participants!
Sunday morning I went to the church service held in the founders' square. I was glad to find out that some of the people in the choir were cousins of my grandmother. As you will soon see, the general theme of the fair was relatives popping up everywhere.
In the afternoon the DeWeese family had a luncheon at the DeWeese cabin. Half of the people there I knew, but hadn't seen in ten years, and the other half were relatives I got to meet for the first time.
Here is Lorraine, my grandmother's first cousin, and her husband. I was able to hear fun stories about my grandmother's teenage years when I talked with Lorraine.
These are Susan and Bill Martin. It was nice to get to know them, especially after hearing my mom tell me how much work Bill had done on our family genealogy. They made me feel very welcome. They even invited me to stay with them!
I spent the afternoon on the Midway with George Albert's daughter and granddaughters. The rides were much more fun with young children who enjoy them.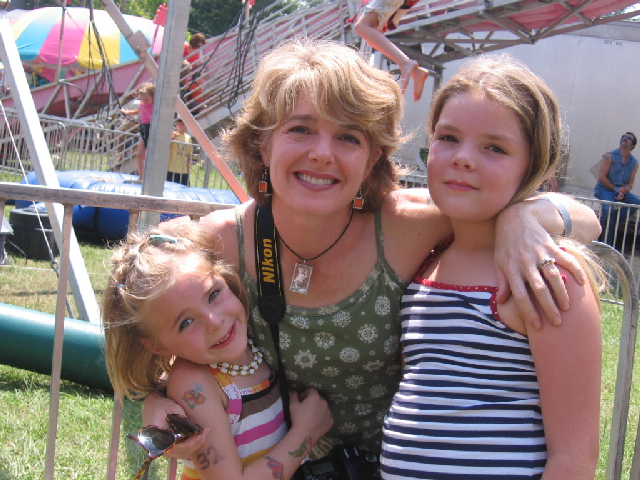 While we were unloading from the ride, I had time to take some aerial shots. This is Ivy and me on a pretty rough ride.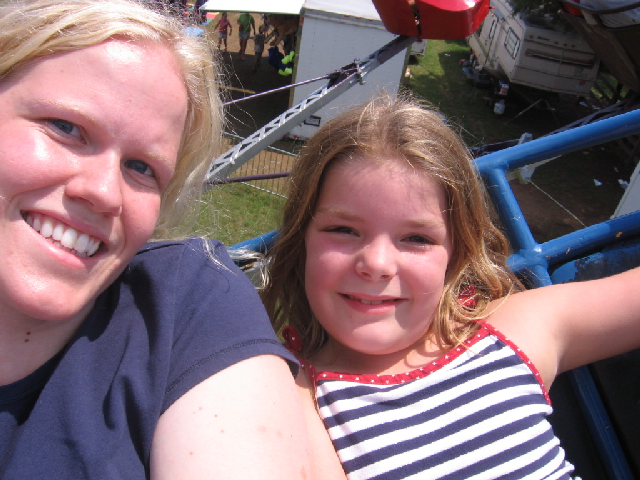 This is just an aerial shot of the fair. It was very hot, so standing in lines for the rides in the open was almost unbearable.
A lot of children had their cabin numbers drawn on them so if they got lost, people could help them get back to their family's cabin.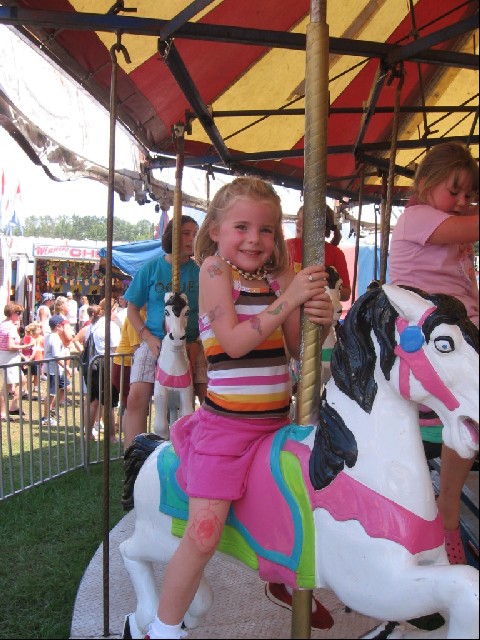 In the early evening, Debbie had to run some errands in town so she drove me past the house my grandmother grew up in and the park that is in honor of my great-grandfather.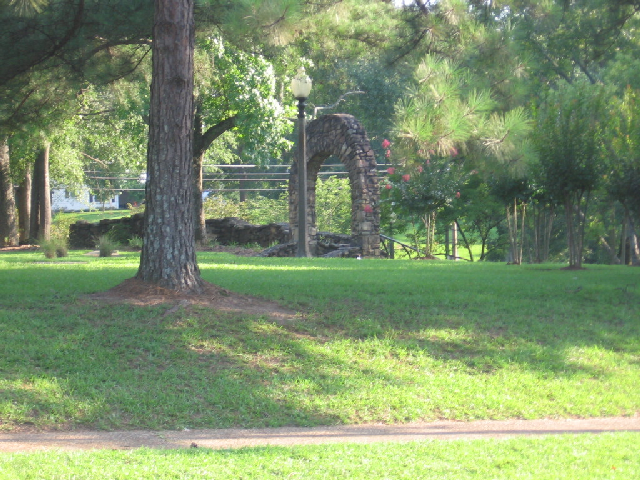 Around dinner time I went and visited with my Great Aunt Sarah. She has a summer home in North Carolina, so she is probably the relative I had seen the most recently.
This is a picture of me with her son, DeWitt, my mom's cousin.
Here is DeWitt with his son Dillin.
Tommy and Ginger were a pleasure to meet. I appreciated the way they took time away from their retirement party, and some of the short time they have with immediate family to get to know me.
Monday morning we took it easy and relaxed by playing with Tomtom.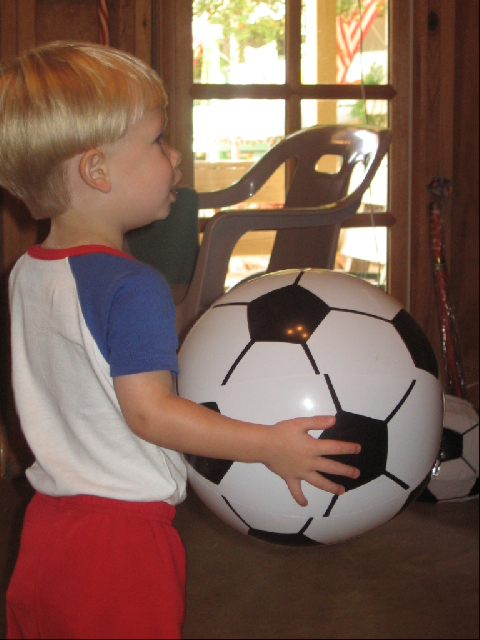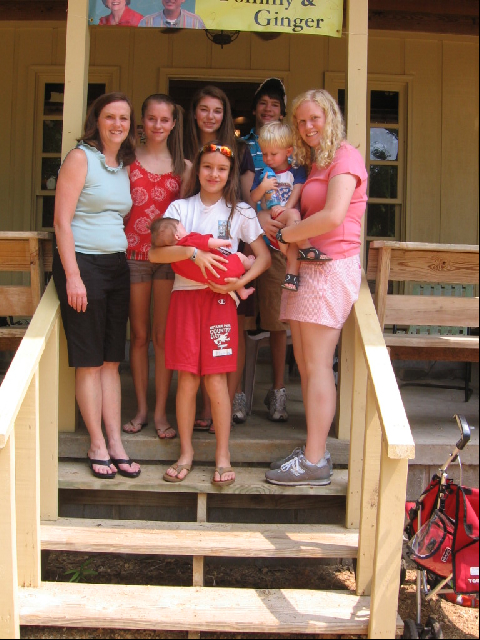 We did manage to squeeze in some time looking at the exhibits and the blue ribbon vegetables.
Before I left I made my way around to say goodbye to everyone I could find, including Sam Blount.
Being at the fair and getting to visit with so many relatives is such a treasure. I am extremely grateful to Debbie for letting me stay in her cabin and for her generous southern hospitality.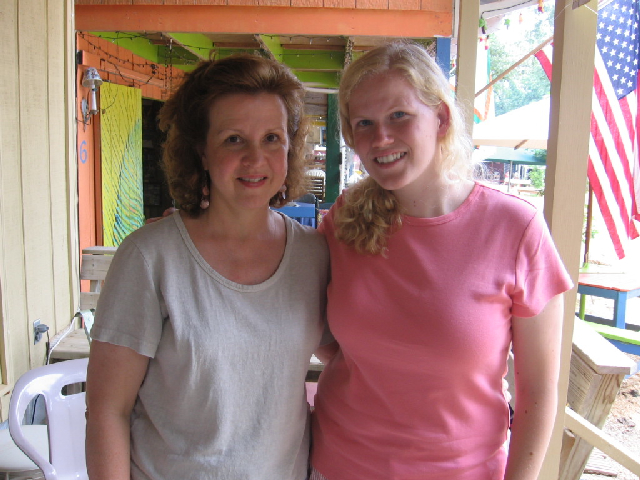 The Blacks, Jackson: July 23 - 26
When I arrived at my Uncle Darrell's house on Monday night, I was welcomed by his amazing wife Gennie, two of their sons, Brandon and Nick, my aunt Jill, and her daughter Mary Liz. My uncle Bruce was tied up at work and had to join us later in the evening. Darrell grilled us some steaks and Gennie prepared the rest of the feast. Their home was beautiful and the meal was as elegant as it was delicious.
Tuesday morning Gennie and I went to look at Brandon's new house. She and one of her friends had to measure some of the space to prepare for furniture and decorations. I really enjoyed seeing these two artists at work, and they were both a hoot. Later in the morning, back at Darrell's house, some other friends of Gennie's came over to help her get the floral decorations ready for a friend's wedding. These ladies really made everything fun. They were so involved in all sorts of different projects that they had to work on multiple things at once. Sometimes this would get confusing, so to clarify they would say, "I'm changing hats now." ;) Some of my favorite time in Jackson was spent getting to know this group of Ya-Ya's.
For lunch that day, Gennie took us all out to the country club. The ladies went back to Gennie's afterwards to keep working on the wedding things, but I stayed and swam in the pool for a while. I had memories of swimming in the same pool with my cousin Ley when I was a little girl. When I was done with the swim I went back to the house and freshened up for dinner at "Cock on the Walk". The restaurant was on a reservoir, so after dinner Mary Liz wanted to go outside and feed the ducks.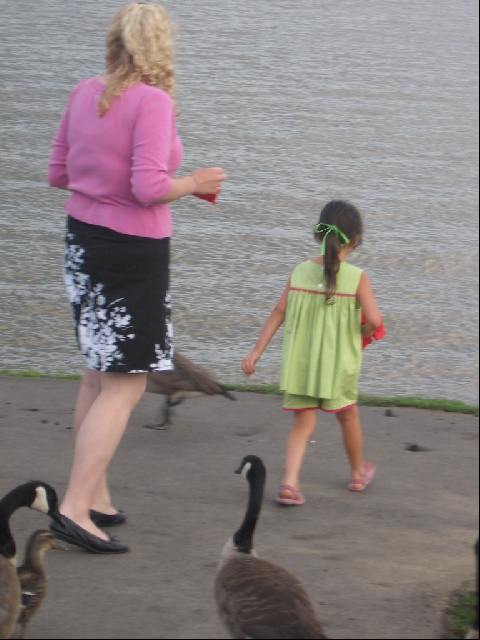 This is a picture of me with my Uncle Bruce, his wife Jill, and Mary Liz.
Here's one with my Uncle Darrell, Aunt Gennie, and cousin Brandon.
And this is the whole group.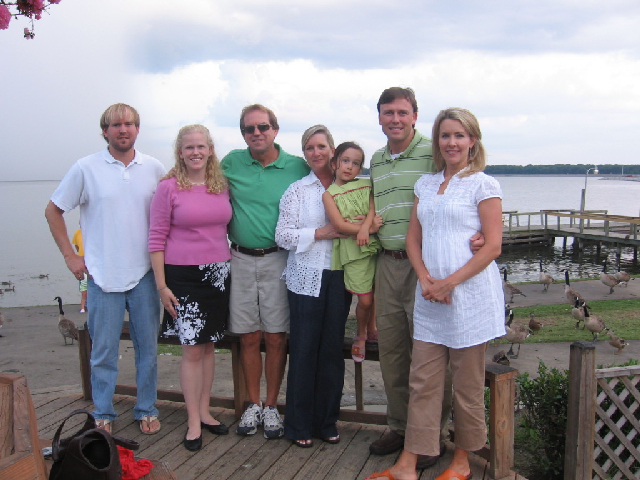 Since the restaurant was near the house that Bruce and Jill had just purchased, we went over there to see the new place. It was very nice and seemed like a great place to raise a family. There was a pool and a hot tub in the back yard. Here is Mary Liz stading on a rock with the house behind her.
Wednesday morning my Uncle Ronnie came over to Darrell's house to visit. It was really good to see him again. We had a nice visit and then Darrell came home from work for lunch and the two of them visited for a while. Jill and Mary Liz also came over and Jill took me out to the Mississippi Sports Hall of Fame Museum. Mary Liz had never been before, and I hadn't been since it first opened. We got to see a lot of the old football history about our grandfather. He played football for Mississippi State and then played professional football. Here is a picture of Mary Liz finding him on a wall of plaques.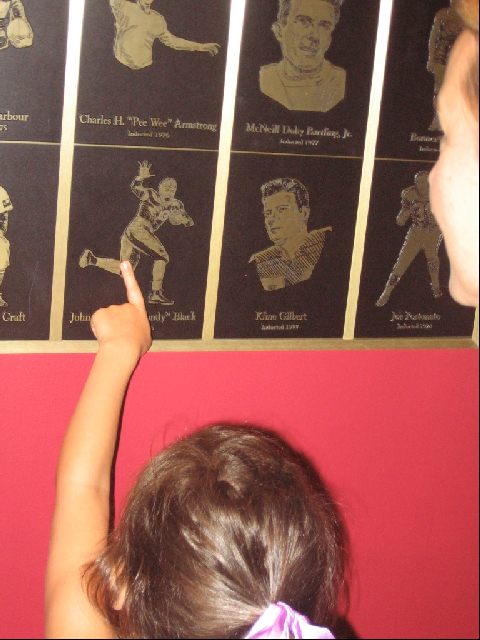 After the museum, Jill took us to Bruce's practice for lunch. (He's a family doctor.) It was very interesting to see where he worked and to meet his partner and the partner's family. Bruce had a lot of pictures of our family members around that were fun to look at. After lunch Jill took me back to Gennie's house and I got to help with the flower decorations some more.
That evening Brandon and I met Bruce, Jill and Mary Liz for dinner at a sushi restaurant. I had a wonderful visit with Bruce and Jill and I was so glad to finally meet Mary Liz!
Back at Darrell's house we watched a movie called "Eight Below" that Darrell and Gennie had highly recommended. It was a really cute movie about some sled dogs in Antartica.
I was very sad to say goodbye to Gennie on Thursday morning. She was so sweet to me; she got me a copy of the seventh Harry Potter book out of the blue! I loved spending time with her and her friends. I really hope to get to go back again soon.
BACK
HOME
NEXT